James Daniel Palmer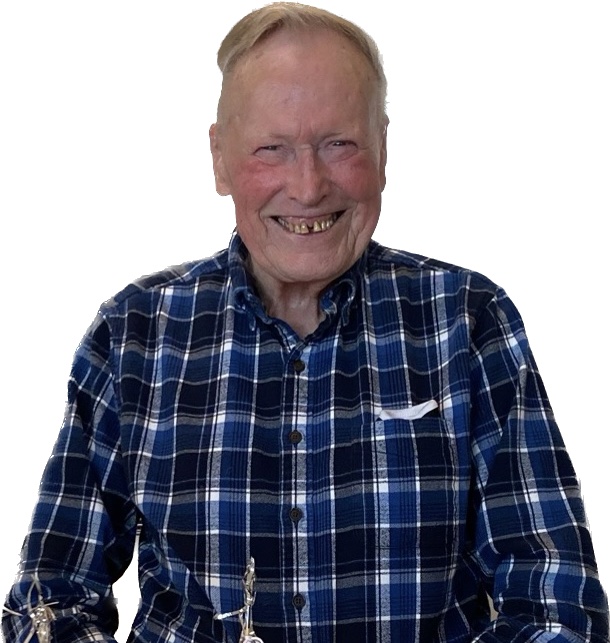 March 8, 1930 ~ September 1, 2023

Resided in: Fremont, California
God called Jim (James Daniel) Palmer home on September 1st, to join Margret, his wife of 66 years (who predeceased him in 2019). He passed peacefully in his sleep. At 93, he was walking 2.5 miles a day, growing beans and tomatoes in his garden, and most importantly spending time with his loving family. He was a reservoir of family history, anecdotes, and opinions on current events. His generosity and welcome advice to family, friends and community have made our world a better place.
He is survived by his sons Steve, Dan, and Keith; his daughters in-law Gail, Kathleen, and Sally; his grandchildren and their spouses; Jon and Winnie, Eliz and Trevor (Manger), Andrew, Robert and Jade, Chris, Rebecca, and Colin; his nearly 2-year-old great grandchildren Jackson Richard Palmer and Nora Margret Manger; his sister Anne Collins; and many nieces, nephews and their families.
Jim was born in Washington DC and after High School spent a brief time on the Louisiana coast working on a research vessel in the Gulf of Mexico. He joined the Marines, was stationed in San Diego, where he met a vibrant and caring nursing student, Margret Kupka. They were married in 1952 in Whittier California and embarked on an adventure that would take them from California, to Oklahoma, New York, Colorado, and back to the East Coast before retiring to the Bay Area. They were active in the communities where they lived, and generous with their time and treasure.
Jim's lifetime is one of achievement and contribution. After the Marines, he worked for McDonnel-Douglas, then received BS and MS engineering degrees from Cal Berkeley, and a PhD from the University of Oklahoma. This led to an ever-advancing career in academia including Dean of Engineering at Union College – Schenectady NY, President of Metropolitan State College – Denver CO, and Professor Emeritus at George Mason University – Fairfax VA. During this time, he received a Doctor of Public Service (honoris causa) from Regis University – Denver CO, and numerous awards including the Outstanding Contributions award from the IEEE SMC Society where he served as President; the IEEE millennium medal; and the U.S. Coast Guard medal for Outstanding Public Service while Chairman of the USCG Academy Advisory Committee. Jim also worked outside of academia as an executive and general manager in the technology and shipping industries, and as The Assistant Secretary and first Administrator of Research and Special Programs for the U.S. Department of Transportation. Jim and Margret traveled the world during his career, and enjoyed the experience of being immersed in many different cultures.
Once retired, Jim and Margret joined the Corpus Christi church community in Fremont where he lectured, sang in the choir (he loved music), delivered Meals on Wheels, and was active in the St. Vincent De Paul Society among many other volunteer activities. They made sure to attend every family holiday, birthday, graduation, reunion, or just small gathering, creating many fond memories.
Jim will continue to walk beside all those he touched with his gifts of generosity and love.
A vigil will be held on Tuesday, September 12, 2023 at 6:00 PM at Berge Pappas Smith Chapel of the Angels, 40842 Fremont Blvd., Fremont, CA. A funeral mass will be held on Wednesday, September 13, 2023 at 10:00 AM at Corpus Christi Church, 37891 Second St., Fremont, CA. An Interment will follow at Holy Sepulchre Cemetery, 26320 Mission Blvd., Hayward, CA.
In lieu of flowers please consider donating to the "James D. Palmer Scholarship Endowment" at George Mason University. The web address is "cec.gmu.edu/give", select "Other Fund" and list Jim's endowment above in "Additional Comments".
Services
Add to My Calendar
America/New_York
2023-09-12 18:00:00
2023-09-12 08:00:00
JamesDaniel PalmerVigil
Vigil
40842 Fremont Blvd.,Fremont, CA 94538
Funeral Mass:
September 13, 2023 10:00 am - 11:00 am
Room: Church
Corpus Christi Church
37891 2nd Street
Fremont, CA 94536
510-790-3207

Add to My Calendar
America/New_York
2023-09-13 10:00:00
2023-09-13 11:00:00
JamesDaniel PalmerFuneral Mass
Funeral Mass
37891 2nd Street,Fremont, CA 94536
Burial:
September 13, 2023 12:00 pm - 1:00 pm
Room: Gravside
Holy Sepulchre Cemetery
26320 Mission Blvd
Hayward, CA 94544
510-581-2488

Add to My Calendar
America/New_York
2023-09-13 12:00:00
2023-09-13 01:00:00
JamesDaniel PalmerBurial
Burial
26320 Mission Blvd,Hayward, CA 94544
Memories Timeline
Guestbook
---