Majorie Lillian Johnson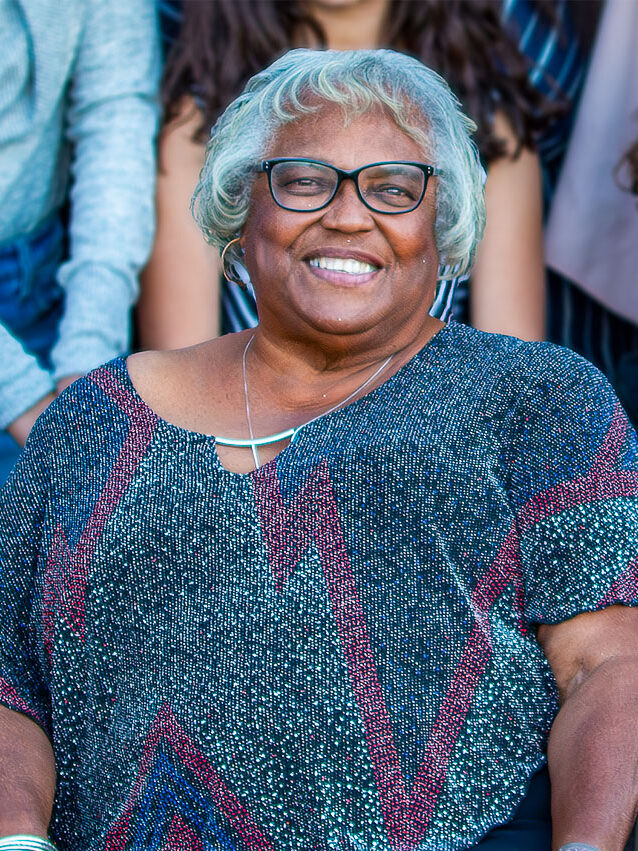 November 23, 1938 ~ October 25, 2023

Resided in: Oakley, California
Marjorie Lillian Johnson (nee Christopher) was born on November 23, 1938, on the island nation of Bermuda. She peacefully passed away on October 25, 2023, at the age of 84 in Stockton, CA with her oldest son Charles and his wife Marilou, their three daughters, Angelica, Ayiana, and Alena, and her daughter-in-law Marcella, by her side. Marjorie will be remembered as a kind-hearted and lovely woman who always had a smile on her face and a spirit that made everyone feel like they were her best friend.
She is survived by her sisters Grace and Frances, both of whom still live in Bermuda. Marjorie was preceded in death by her ex-husband and father of her children Charles Johnson, Sr., her brothers Gladstone, Kenneth, Frederick, and Walter, and her sisters, Gwendolyn, Alice, and Ivy.
Marjorie spent her younger years in Bermuda and her teenage years attending high school in New York. After high school she attended Secretarial School before returning to Bermuda. Because she was so smart and accomplished, she was hired as a secretary on the US Naval Base. While working at the base she met a young sailor by the name of Charles Johnson. The two of them fell in love, got married, and shortly thereafter moved to the United States after Charles received new orders.
Marjorie and Charles spent almost a decade at several naval stations on the east coast of the US. During that time Marjorie gave birth to 3 boys, Charles Jr., Carl, and Michael. Not long after Michael was born Charles Sr. received orders to move to Naval Air Station Alameda, located in the San Francisco Bay Area. After a few years in Alameda, Marjorie and Charles decided that the Bay Area was going to be their permanent home to raise their family once Charles retired from the Navy. After retirement, the family moved to Fremont, CA.
Although Marjorie grew up in Bermuda where soccer and cricket are its major sports, she learned and fell in love with the sports her boys played throughout their childhood, baseball and football. When the boys were playing Little League Baseball she would work in the "Snack Shack" during their games.  Everyone throughout the league knew her. She learned to be a scorekeeper and would quite often do the official books for the games. She also loved pro baseball. Her and Charles took the boys to many Oakland A's games. When the boys started playing football, she became a fan of that too. If it was a Sunday in the Fall and you needed to know how the San Francisco 49ers played, you could call her, and she'd tell you. She loved her Niners!
Marjorie loved spending time with her family. Her family kept growing and she loved it. Known as Grandma, she had 12 grandchildren and 7 great grandchildren. She loved her grandchildren so much and they all loved her just as much. She really enjoyed spending time with her friends. Marjorie spent at least some portion of every single day making someone happy talking to them, either in-person or over the phone.
Marjorie loved to return home to Bermuda, especially when it was Cup Match (the sport of Cricket) as she was a DIEHARD Somerset (red & blue) fan!! On the first day she always ensured she went to the famous crown and anchor table, which is similar to bingo, to see what she could win! Happy with her winnings she always returned letting everyone know she had some "change$$" in her pocket!
Marjorie enjoyed traveling. She had taken numerous cruises, visited places like London and other major cities in Europe like Paris, enjoyed multiple islands in the Caribbean, and enjoyed different regions of Canada. She also enjoyed knitting, even making beanies for newborn babies that she donated to the local hospital.  She even inspired her granddaughters to take up knitting.
Marjorie also enjoyed going to small casinos and trying her luck. And plenty of luck she did have. She won so often that the first thing friends and family would ask her when she came home from a casino was, "How much money did you win?" She also won quite often playing BINGO. She would play just about anywhere. She even kept her Bingo playing kit (containing things like multiple colors of blotters) in the trunk of her car. And she especially enjoyed having her oldest granddaughters going with her to play.
In addition to being a Bermuda citizen and a US citizen, she had recently received her citizenship with the Caribbean Island nation of St. Kitts and Nevis. Her father was originally from St. Kitts and Nevis, which allowed her to get her citizenship through descent.
Throughout her years living in Fremont, Marjorie attended church at St. James' Episcopal Church in Fremont, CA.
Marjorie leaves to cherish loving memories of her: three sons, Charles, Jr. (Marilou) Johnson of Oakley, CA; Carl (Julianne) Johnson of University Place, WA; and Michael (Jerri) Johnson of Brooklyn, NY; ten grandchildren, Ashley (Justin) McCain of Fate, TX; Vanessa (Freddy) Padilla of San Diego, CA; [mother of Ashley and Vanessa, Marcella (Ricky) Villareal of Modesto, CA]; Ellis Johnson, Garrett Johnson, Brooke Johnson of University Place, WA; [mother of Ellis, Garrett, Brooke, Penelope Johnson of Tacoma, WA]; Angelica Johnson, Aiyana Johnson, Alena Johnson of Oakley, CA; Zarya Shick-Johnson, Watson Shick-Johnson of Brooklyn, NY; four great grandchildren, Roman Castaneda, Joaquin Padilla, Marley McCain, Malcolm McCain; two sisters, Grace and Frances; two step-grandchildren, Marissa (Preston) Davis, Alexandria Murphy; three step-great grandchildren, Josiah Davis, Kiana Davis, Leilah Davis; nieces, nephews, cousins, other relatives and friends.
A public viewing will be held on Friday, November 17th, from 5:00pm to 8:00pm at Berge-Pappas-Smith Chapel of The Angels, located at 40842 Fremont Blvd., Fremont, CA 94538. The funeral service will take place on Saturday, November 18th, from 2:00pm to 4:00pm. A celebration of life event will be held on Sunday, November 19th, from 1:00pm to 4:00pm.
Marjorie's final resting place will be in Bermuda with her brothers and sisters at St. James Church in Somerset Bermuda. There will be another funeral service there so more family and friends can celebrate her. The date will be sometime in the beginning of the new year, between mid-January and mid-February.
Berge-Pappas-Smith Chapel of The Angels in Fremont, CA is assisting with the arrangements for Marjorie's passing. Online condolences may be sent to the Johnson family at www.bergepappassmith.com/obits/majorie-l-johnson
Services
Add to My Calendar
America/New_York
2023-11-17 17:00:00
2023-11-17 08:00:00
MajorieLillianJohnsonVisitation
Visitation
40842 Fremont Blvd.,Fremont, CA 94538
Add to My Calendar
America/New_York
2023-11-18 14:00:00
2023-11-18 04:00:00
MajorieLillianJohnsonFuneral Service
Funeral Service
40842 Fremont Blvd.,Fremont, CA 94538
Memories Timeline
Guestbook
---