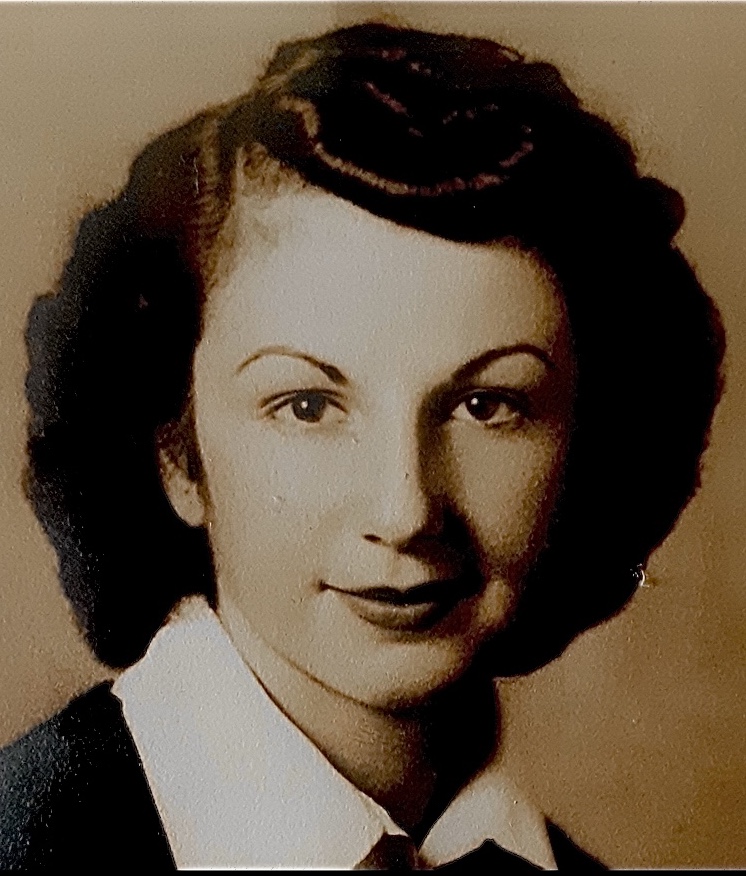 July 31, 2021
Born in: Newark, California
Resided in: Newark, California
It is with heavy hearts that we say goodbye to our beloved and cherished mother, grandmother and great grandmother. Thelma died peacefully on Saturday morning, July 31, 2021 in Hayward at the age of 100.
She was the third of six children born to John A. Freitas and Catherine L. (Medeiros) Freitas. She was born at their family home in Newark. She was a lifelong resident of Newark as well as a lifelong member of St. Edward's Church where she was the first baby baptized when St. Edward's became a parish.
Thelma attended Newark Grammar School and graduated from Washington Union High School in Fremont (Centerville) with the Class of 1938. That summer Thelma was honored to be named Queen for the Portuguese Holy Ghost Festival.
Shortly before graduation, she met Cecil McNieve at a dance. They dated and later married on November 19, 1939 at St. Edward's Church. Cecil served his country during World War II in the U.S. Army. After he returned home in 1945, they welcomed daughters Deborah and Melanie. After their marriage ended in 1954, Thelma went on to raise her two daughters and continued to work for the Newark Post Office.
Thelma began working at the Newark Post Office in 1943 as a window clerk. In her own words she had written, "Thelma was very proud to have been employed by the U.S. Post Office and was happy to have served the good people of Newark for 33 years." Prior to the post office she worked at Booth Cannery in Fremont (Centerville).
 In 1957 a new employee named Jack Gonsalves transferred from the San Leandro Post Office to Newark. His job was to set up city delivery for Newark. As time went on the two of them dated and married on October 24, 1965. Jack and Thelma both retired from the post office on December 31, 1976.
Thelma wasn't much of a traveler, but she would talk of the trips to Watsonville to camp and go clamming with her parents and siblings as children. Later she and Jack would join Debbie, Ed and their family on occasional camping trips to Pinecrest. Thelma and Jack did travel to Hawaii and loved going to the casinos in Lake Tahoe and Reno. Thelma could sit for hours playing Keno. After Jack's death in 2002 she and Debbie would take bus trips or Drive to Reno for a few Days.
Thelma was an avid gardener, loved reading, dancing, watching game shows, attending craft shows, and buying lottery tickets. She enjoyed her linguica and yams, sopas, and she loved desserts but her favorite was ice cream.
Thelma had a strong faith and positive attitude. She was generous, kind-hearted, loyal and compassionate.
Thelma is survived by her loving and devoted daughter Deborah Farrens. Her cherished grandchildren Brad Farrens, Michelle Brooks, and Susan Farrens. Her adored great-grandchildren Kaitlyn Brooks and Trevor Farrens and her loving sister-in-law Esther Freitas. Also survived by her step-son Wayne Gonsalves and his family, step-grandson Gary Gonsalves and his family and daughter-in-law Kathleen Gonsalves. Seventeen Nephews and nieces; many great nephews and great nieces along with their children.
Thelma is predeceased by her parents John A. Freitas and Catherine L. Freitas. Her Husband Jack A. Gonsalves; daughter Melanie A. McNieve; son-in-law Edward L. Farrens. Siblings Lillian Kettman (John), Florence Lacey (Herbert), Eleanor Millan (Sal), John Freitas (Norma), David Freitas, and stepson Gary Gonsalves.
Vigil and Rosary to be held at Berge-Pappas-Smith Chapel of the Angels, 40842 Fremont Blvd, Fremont, CA 94538 on Sunday, August 22, 2021 from 1:00 pm to 4:00 pm. Mass to be held at St. Edward's Church, 5788 Thornton Ave., Newark, CA 94560 on Monday, August 23, 2021 at 10:30 AM with burial to follow at Holy Sepulchre Cemetery, 26320 Mission Blvd, Hayward, CA 94544.
In Lieu of flowers, memorial donations in Thelma's memory may be made to Alzheimer's Disease Research, 22512 Gateway Center Dr., Clarksburg, MD 20871.
Services
Add to My Calendar
America/New_York
2021-08-22 13:00:00
2022-08-17 04:00:00
Thelma L. Gonsalves Vigil/Rosary
Vigil/Rosary
40842 Fremont Blvd.,Fremont, CA 94538
Funeral Mass: August 23, 2021 10:30 am - 11:30 am
Saint Edwards Catholic Church
5788 Thornton Way
Newark, CA 94560
510-797-0241

Room: Chapel
Add to My Calendar
America/New_York
2021-08-23 10:30:00
2022-08-17 11:30:00
Thelma L. Gonsalves Funeral Mass
Funeral Mass
5788 Thornton Way,Newark, CA 94560
Burial: August 23, 2021 12:00 pm - 1:00 pm
Holy Sepulchre Cemetery
26320 Mission Blvd
Hayward, CA 94544
510-581-2488

Room: Graveside
Add to My Calendar
America/New_York
2021-08-23 12:00:00
2022-08-17 01:00:00
Thelma L. Gonsalves Burial
Burial
26320 Mission Blvd,Hayward, CA 94544
Memories Timeline
Sign the Guestbook, Light a Candle