Wayne Paul Springsteen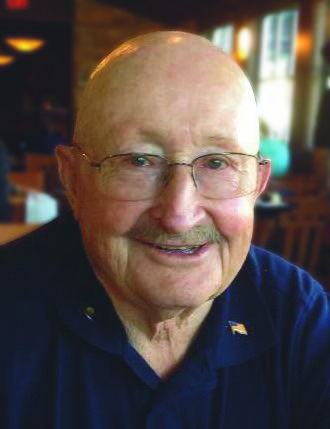 July 8, 1926 ~ March 17, 2023
Born in: New Plymouth, Idaho
Resided in: Fremont, California
Wayne Springsteen was born on July 8, 1926, to Lillian Bertha Langley and Horry Everett Springsteen in New Plymouth, Idaho. He passed away peacefully in his sleep at age 96 with his beloved cat, Piper, by his side in Fremont, California.
His family lived on the old Springsteen homestead, a 40-acre farm located 3.5 miles southeast of New Plymouth, Idaho. His great aunt Rhoda Christy Brown Detrick assisted with his birth at home. He had an older brother, Richard Lloyd, and a younger sister, Betty Jean, who both predecease him.
Upon graduation from New Plymouth High School in 1944 as senior class president, Wayne enlisted in the Army Air Corps at Gowen Field in Boise. He was accepted into the pilots training program in all categories; bomber pilot, fighter pilot, navigator, and bombardier and was inducted at Fort Douglas in Salt Lake City, Utah. He completed his basic training at Keesler Field in Biloxi, Mississippi, before being sent to La Junta Army Air Base in Colorado and Hobbs Air Force Base in New Mexico while awaiting a spot in the cadet training program. He was in flight training at Hobbs when the first atomic bomb was tested at White Sands, New Mexico.  With the war winding down and fewer pilots needed, he was assigned to the military police to quell too much celebrating on VJ Day. Wayne was honorably discharged from active duty in 1945. He served in the Air Force active reserves in Richland, Washington where he flew search missions in the Cascade Mountains for the Civil Air Patrol. He was discharged from the active reserve in 1960, having attained the rank of Technical Sergeant as an Air Traffic Control Supervisor. He was fortunate to serve stateside during World War II and never was involved in combat. He had a lifelong love of airplanes, his favorite being the Piper Cub.
After the war ended, Wayne returned to Idaho and attended College of Idaho for two years and worked as a licensed electrician during this time. At one point he was the youngest licensed electrician in Idaho and, many years later, the oldest. He married Joyce Elaine Sorenson on June 5, 1949, in New Plymouth, Idaho and they had five children together before divorcing in 1968.
Wayne made his home in Richland, Washington with his wife and daughters Lois and Kaye while working for General Electric at the Hanford Site in 1951. The family moved to Fremont, California in 1958, where his three younger children, Judy, Linda, and David were born. He was an early employee at Vallecitos Nuclear Center and retired from General Electric after 41 years of service.
In addition to work and family life, he loved to garden, travel, and play golf. Like his sister, Betty, he hit a hole-in-one. He parachuted solo, at age 60, more than once. Wayne was active in flying and archery, trap and skeet (he was an outstanding marksman), bowling, and being helpful. He spent 30 years volunteering at the Fremont Police Department in their records department, and used his ham radio skills, call sign WU6A, for enjoyment and community safety. He even adopted a lion at Shambala Preserve. Wayne could fix anything; he stayed busy helping his adult children with home and auto repairs and upgrades and he helped his daughter Lois rewire her entire house.
Wayne loved his children, grandchildren, nieces, nephews, and great-grandchildren and always looked forward to family gatherings.
Wayne is survived by his four daughters Lois Springsteen (Bill Bryant), Kaye Zigrang (John), Judy Springsteen, Linda Springsteen, and son David Springsteen (Andrea). His grandchildren are Daniel Nelson (Shelley), Erin Springsteen, Nicholas Allen, Alex Springsteen, Sam Allen, John Springsteen, and Lucas Springsteen. His great grandchildren Violet and Tucker Nelson, and Hailie and Atlas Allen brought him great joy. He was preceded in death by his great granddaughter Aubrielle Allen in 2019.
In lieu of flowers, please consider donating to one of Wayne's favorite charities —  American Legion,  Stray Cat Alliance, AIDS/Lifecycle, or Cabrillo Festival of Contemporary Music.
Memorial Services will be held at Berge Pappas Smith Chapel of the Angels on April 13, 2023, at 10:00 A.M. and interment will be at the Sacramento Valley National Cemetery on May 2, 2023, at 2:30 P.M.
Services
Add to My Calendar
America/New_York
2023-04-13 10:00:00
2023-04-13 11:00:00
WaynePaulSpringsteenMemorial Service
Memorial Service
40842 Fremont Blvd.,Fremont, CA 94538
Memories Timeline
Guestbook
---